Chef serves up tips on eating right

Albany -- Mike Russo stresses health in traveling culinary program for children

By JAMES COLLINS, Staff writer
First published: Thursday, July 22, 2004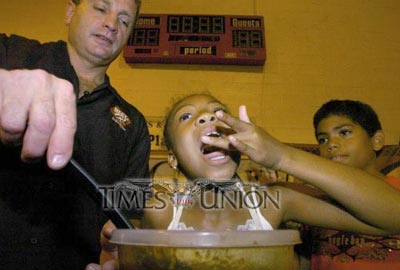 Summer camp was good to 8-year-old T.J. Lynch on Wednesday.
First the directors decided to cut nap time short. Afterward, everyone piled into the gym for bongo-and-guitar music...

...Russo is the host of "Cooking for Kids," a culinary road show that stopped Wednesday at the Albany Boys and Girls Club on Delaware Avenue. Russo hopes to convert a nation full of obese kids raised on McDonald's and Twinkies to a healthier lifestyle without taking out the joy of cooking.
"You've got to eat anyway, so you might as well make themost of it," said Russo, a Saratoga Springs businessman who hopes to land a television show on the Food Network...
..."I like chicken barbecue, baked or crispy, but I know some of the greasy stuff isn't good for you," said Lynch, who lives in Albany.
Campers were also treated to personal pan pita pizzas with a variety of healthy toppings and quesadillas prepared on a George Foreman grill.
Russo and a crew of assistants discussed nutrition information with audience members as they slaved over a hot grill.
"It's like an Emeril show times 10," Russo boasted, comparing "Cooking for Kids" with the program hosted by chef Emeril Lagasse on Food Network.
Penny Holmes, director of the Boys and Girls Clubs of Albany, said Russo might have the right recipe for getting kids to eat better.
"The kids were obviously excited that the cooking show was coming, but Mike's message is really important for teaching these kids a healthy lifestyle," she said.
Russo typically travels around the country lining up corporate sponsors, then brings along his own staff and traveling kitchen to raise money for local children's charities.
On Wednesday, he donated his time and services to the children.
Russo, who has worked in a variety of foodservice jobs, hopes to sell some variation of his concept under the name, "The Heat Is On," to the Food Network by the end of the year.
The roadshow is produced by Media 1 Communications, a Clifton Park-based advertising and marketing firm.
"We're really hoping the charity fund-raising component and anti-obesity message helps the thing take off," said Media 1's Gary Sears, who is the show's executive producer.
The roadshow will travel Aug. 3 to Las Vegas and Aug. 25 to New York City.